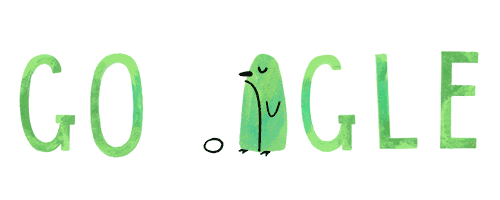 Google has put a doodle on Father's day today, Sunday, June 21, which incidentally coincides with the International Yoga day as declared by the UN and being observed in India. However, Father's day falls on the third Sunday of the month and the date varies every year.
The green coloured simple Google Doodle, when clicked on the 'o' in the middle takes you to an animated doodle showing father-child relationship. To begin with, it shows a penguin protecting its egg and then a pup imitating a dog moving his tail in rhythm while a bearded tamarin's progeny sit on its back that a human caricature shows a son jumping on to the shoulders of his father and making him happy as ever.
It's a feeling only fathers can rejoice and Google doodle has brought it forth thoughtfully and the doodler, Olivia Huynh, says they all meant to portray the "universality of familial love." Father's day is celebrated to honour fatherhood and it's influence on society on the third Sunday of June in most countries.
Here are some best quotes culled out from archives:
"The greatest gift I ever had came from God; I call him Dad!" –Anonymous.
"When I was a boy of fourteen, my father was so ignorant I could hardly stand to have the old man around. But when I got to be
twenty-one, I was astonished at how much he had learned in seven years." — Mark Twain
"It is not flesh and blood but the heart which makes us fathers and sons." — Johann Friedrich von Schiller
"It's only when you grow up and step back from him–or leave him for your own home–it's only then that you can measure his greatness
and fully appreciate it." — MARGARET TRUMAN
"One father is more than a hundred schoolmasters." — George Herbert.
"To her, the name of father was another name for love." — FANNY FERN
"I cannot think of any need in childhood as strong as the need for a father's protection." — Sigmund Freud
"My father gave me the greatest gift anyone could give another person; he believed in me." — JIM VALVANO
"When a father gives to his son, both laugh; when a son gives to his father, both cry." — A Yiddish Proverb
"By the time a man realizes that his father was right, he has a son who thinks he's wrong." — CHARLES W.